"Mom, let's go to the gym."
It was 10:00 p.m. on the day after Christmas 2013, and 18-year-old Whitney Corby and her mother, Teresa Corby, had just returned from the movies. Because of the hour, Teresa had no interest in going to the gym, so Whitney went solo.
Just a short time later, Teresa received a call that Whitney had been in an accident. Her car had slid on black ice, left the roadway and wrapped around a tree. Critically injured, Guthrie Air was immediately requested and Whitney made a 15-minute flight to the closest trauma center, Robert Packer Hospital in Sayre, Pennsylvania.
Arriving at the hospital, Whitney's mom remembers a doctor saying, "I'm telling you right now, if she had not been flown down here, she would not be here today."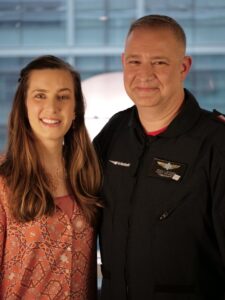 "Learning how to do everything all over again when you're 18 years old…
is really scary."
It was only then that Teresa realized how seriously her daughter had been injured. For six days, Whitney lay in a coma as medical staff worked to save her while her loved ones kept vigil by her side, never giving up hope. However, following one MRI, her family was told, "You need to start to prepare because this is not going to be good." But Whitney had other plans, and the next day, to everyone's amazement, she woke up.
Whitney was then transferred to Golisano Neurology and Rehabilitation Center in Rochester, New York where she had to learn to walk, talk and eat again.
As Whitney worked toward recovery, she began to think about her future and what she would do with the rest of her life. Working each day so closely with her nurses inspired her, and she made the decision to become a nurse herself. "Who better to do neuro," she thought, "than somebody with neuro."
The following year, Whitney entered the Binghamton University Decker School of Nursing and two years after that, she walked across the stage to accept her diploma. Watching her daughter, Teresa thought, "They told me to prepare to bury my child, and that if she did survive, she'd never walk…and now she's a neuro nurse helping people."
Like so many others, Sean Mitchell, flight paramedic on Whitney's flight, marvels at Whitney's recovery. "She is the incredible story, without a doubt," he said. Because she wanted to meet her rescuers, the base invited her to an LZ class. The crews were impressed with her lack of self-pity and how hard she has worked toward her recovery. "She doesn't feel that anything can stop her," Sean said. "She's an inspiration."
Whitney and her mother know that, because they are rural residents, Whitney faced grim odds without air medical services. In these areas, there is an additional 22 percent risk of injury-related death due to the length of time it takes to reach appropriate medical care.
"It's crazy how a helicopter can stand between you being alive and you being in a grave," Whitney said. "The fact that people don't have access to this really breaks my heart."
Teresa can't imagine how different things would have been without air medical. "I truly mean it when I say that if it wasn't for them, she wouldn't be here," she said. "I don't know what we would do if we didn't have her."