Brian Dawes, a retired, 30 year veteran, from the City of Avalon Harbor Patrol Office and a LA County Fire Life Guard EMT-D, had called in a helicopter for patients many times, not knowing that a MedEvac transport would some day save his life.
"When I arrived at the hospital at 7 PM, I was "crashing" and required rapid assessment, fluids, antibiotics, supplemental steroids, morphine, and MedEvac was put on standby pending a CT scan of the abdomen. The scan showed "free air" in my abdomen, a sign of peritonitis. Mercy Air arrived 20 minutes later. I knew death was knocking at my door. The flight crew was fantastic to me and to my mother who accompanied me to Long Beach Memorial Hospital. On arrival I was rushed into surgery and was kept in a medically induced coma for nearly a week."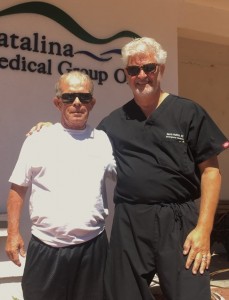 The first MFI Patient of the Year, Brian Dawes,
pictured here with Dr. Kevin Hutton.