In a small community, many residents have more than one job. Take Brandon Hale, for example. By day, Brandon is a lease operator in an oil field. As a resident of tiny Westbrook, Texas, Brandon and his family know that volunteers can be the difference between life and death, and between losing a home and saving it. With a heart for their community of 200 people, Brandon and his wife, Mindy, both serve on the Westbrook Volunteer Fire Department, with Brandon serving as the fire chief. Since firefighters often provide safe landing zones for Air Evac Lifeteam helicopters, the Big Spring Air Evac crew provides Landing Zone and Helicopter Safety Classes to the Westbrook Volunteer Fire Department.
"We became members of Air Evac in 2008, because not only do we live in a small town, we are not close to any big city," Mindy said. "With Brandon's work in the oil field, it is comforting to know that we can call for Air Evac when there is a major trauma."
Westbrook does not have police department, so when a Sheriff's Deputy responded to a domestic call on September 9, 2015, he asked Brandon for help searching for a suspect. Although he had just finished fighting a fire, Brandon answered the call.
"The suspect snuck around and attacked my husband from behind, stabbing him multiple times," Mindy recalled. "My dad called me to let me know Brandon had been attacked, but I didn't know he had been stabbed until I got to the ambulance. It was such a sense of relief, knowing we could call Air Evac and they could get him to a Level 1 trauma center quickly."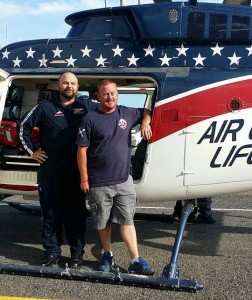 "It's certainly difficult to respond and fly someone who works as a first-responder. This is someone who is volunteering to be there for his friends, family and neighbors 24/7. I saw the many stab wounds, and was most concerned about the injury to his eye."
~ Kevin Briley, flight paramedic
Kevin Briley, flight paramedic with Air Evac 54 in Big Spring, remembered flying Brandon to University Medical Center in Lubbock.
Brandon lost his left eye in the attack, but has otherwise recovered and is doing well. So well, in fact, that he attended an event in Westbrook that was also attended by Air Evac Lifeteam. Brandon heard Kevin speaking, and knew he was with the Big Spring crew.
"Brandon immediately recognized the voice that talked to him all the way to Lubbock that night," Mindy said. "I am so thankful for Kevin and the Air Evac crew that took care of Brandon, and I am very thankful we are members. I tell everyone I know that they need to be members, too."