MedEvac Foundation continues to put focus on the mental health and wellness of medical transport crews and other first-responders during the 2023 Air Medical Transport Conference in Columbus, Ohio - October 23-25.
Take a look at a listing of education sessions dealing with mental health and wellness below:
Pouring From an Empty Cup: The Neuroscience of Stress and How to Hold the Line of High Performance
John vonRosenberg, MA, FP-C; EastCare
Finding Your Inner Superhero
Josh Duda, NRP, FP-C; North Memorial Air Care
Does Anyone Actually Get 8 Hours of Sleep? Real World Resilience for Real World Providers
James Boomhower, MS(c), FP-C, C-NPT, NRP, CCISM; Boston MedFlight
We're in this Together: Engaging Staff through Peer Support
Phadra McCray, M.Ed, MSW, LSW and Rachael Bardnell, MSW, LSW; Nationwide Children's Hospital
EMS Burnout, Trauma Exposure, and Stress
Aaron Ziegler, MD; Corewell Health Aero Med and North Flight Aero Med
Here is a pre-conference option to consider:
Motivational Leadership – Getting the Most Out of Your Team 
This foundational workshop will help you learn how to maximize the individual strengths of your team members, successfully implement change within your organization, and take your team to the next level. We will start by understanding the phases that a project must go through to be successful. Next, you will discover the phrase of a project where your motivation is highest and how you can best contribute to the team that you are currently working alongside. And finally, we will help you better understand the key roles that your teammates fill during the life cycle of a project.
Facilitators:
Jenn Liebman, Director of Clinical Services, Guardian Flight
Jared Sherman, VP of Operations, GMR
Taking Care of Our Own Exhibit Booth
Thanks to GMR, conference attendees have a space in the EXPO Hall to recharge mind, body AND device. Stop by the Taking Care of Our Own Booth for a seated or foot massage, spend some time with our AMTC therapy dogs, network a bit, and charge your device while you visit!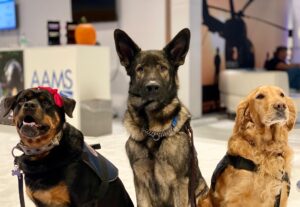 2023 Taking Care of Our Own Tour
The MedEvac Foundation is seeking partners to host tour stops for the Taking Care of Our Own Tour throughout 2023.
These 1-day in-person workshops provide tools and resources to address the critical mental health and wellness needs of this industry's most valuable asset; our people. Attendees will learn actionable methods for coping with burnout, compassion fatigue, stress/situational assessment, how to identify a peer in crisis and more.  Attendees will participate in interactive discussion and dialogue around these pressing issues and what to do when "its ok to not be ok."
Interested in hosting a tour stop at your organization?
Contact Christina Childs at cchilds@aams.org to talk it over!
Why It's OK to Not Be OK and What To Do About It: How to Cope with Stress
& PTSD
Putting It All Together: Building Your Resiliency Toolbox
Lunch and Roundtable Conversations
Setting Your Program Up for Success: Best Practices in Resource Building
If you or your organization are interested in supporting the Taking Care of Our Own initiative, please click below.
100% of your donation will go to support MFI's efforts in Taking Care of Our Own.
"I wanted to share a few thoughts with you about the Taking Care of Our Own workshop that was sponsored by Duke Life Flight a few weeks ago. While all the presentations were of high quality and very informative I was absolutely impacted the most by James Boomhower's presentation on the development of a Peer Support Team and his experiences with his team at Boston MedFlight.
You are probably not aware that Apollo MedFlight has experienced a couple of significant losses this year. One of our senior pilots lost his son to suicide in March and just two months later our clinical educator took his own life. In both instances our organization was at somewhat of a loss on how to support our teammates directly affected by these tragedies. We realized very quickly though that all our teammates were affected and we had no plan in place on how to help. After hearing James' presentation it became clear that Apollo needed to develop our own Peer Support Team. I have tasked our Safety Director and VP of Human Resources to take the lead on this project. They have reached out to James and he has been an amazing resource, and we are well on our way to establishing this important new component of Apollo MedFlight. None of this would have occurred had I not attended the workshop in North Carolina.
If anyone is on the fence about attendance at one of the workshops or the value of the Taking Care of Our Own programs I hope my experience will emphasize the reality that the stresses we experience in taking care of others must be dealt with before it reaches the level it did at Apollo."
         ~ Lee McCammon, Chief Operating Officer, Apollo MedFlight
A special thank you to our 2022 Tour Sponsors!
Industry Organizations Collaborating on the 2022 Tour
Air & Surface Transport Nurses Association
Air Medical Physician Association
Association of Air Medical Services
Association of Professional Flight Chaplains
American Ambulance Association
Commission on Accreditation of Medical Transport Systems
International Association of Flight and Critical Care Paramedics
International Association of Medical Transport Communication Specialists
National Association of Emergency Medical Technicians
National Association of State EMS Officials
National EMS Pilots Association
Survivors Network for the Air Medical Community